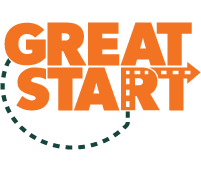 Congratulations, and welcome to the University of Miami! Each summer, the Department of Orientation & Commuter Student Involvement invites newly admitted commuter students (first-year students beginning in the fall or spring semesters as well as transfer students beginning in the fall semester) to participate in the Great Start program.
Great Start is an overnight pre-orientation program designed to create a college adjustment and campus involvement experience for new students who will be living off campus in their first year at the University of Miami. The mission of Great Start is to facilitate a smooth transition to college for new commuter students by orienting them to the campus and its resources, challenging them to explore academic and co-curricular opportunities, and empowering them to be active members of the 'Canes family. Students who participated in Great Start have said the program greatly contributed to a positive transition into the University of Miami.
The Great Start team looks forward to seeing you in the summer.  Please take some time to explore the information on this website.  If you have any questions, contact our program staff via email at greatstart@miami.edu or by phone at (305) 284-5646.
"Great Start really helped me see another perspective of the college life. It helped me realize that I could experience all the benefits of a 'typical' college life without feeling left out simply because I would be a commuter." –Great Start 2018 Participant