The Orientation program is built upon the dedication, passion and enthusiasm of our current students who support the transition of new students to the university. These students serve as mentors, resources, and guides throughout the first critical moments of a student's journey through the U.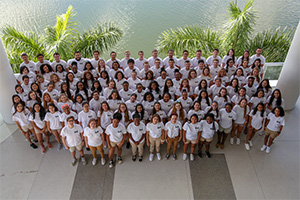 Orientation Fellows
Orientation Fellows play an important role in creating a positive transition to UM for incoming students. Orientation Fellows will lead a group of first-year or transfer students through 'Cane Kickoff in collaboration with Resident Assistants, Commuter Assistants, Transfer Assistants, and First-Year Fellows. Through this volunteer opportunity, you will gain valuable leadership experience and further connect with your peers, faculty, and staff.                                                                         

Orientation Leaders
Students must have previous Orientation experience and have sophomore or junior standing to serve as Orientation Leaders. In this position, students play a role in the development of the Orientation program and the selection/training of Orientation Fellows. Orientation Leaders lead a group of Orientation Fellows during the Orientation program, as well as manage the logistics of the Orientation program and the Family Weekend program.
Program Coordinators
The Program Coordinators are the student leaders that directly manage Orientation program, as well as the Family Weekend program, with the Director and Assistant Director of the Department of Orientation. Program Coordinators have previously served as Orientation Leaders and are responsible for the recruitment, selection, training and assignments of orientation student volunteers. Program Coordinators are expected to be available throughout the summer leading up to the orientation program. Summer housing or a stipend is provided for working in the office.