Great Start 2022 Dates
Session 1: July 9-10
In-person program for all new commuter students. Students admitted for the Spring 2023 semester, are also invited to attend.

Registration Deadline: 

Tuesday, July 5 at 5:00pm

Cost:

 $50 (includes Great Start exclusive merchandise; 2 lunches, 1 dinner, and snacks; and a two-day parking pass)
Session 2: July 23-24
In-person program for all new commuter students. Students admitted for the Spring 2023 semester, are also invited to attend

Registration Deadline: 

Tuesday, July 19 at 5:00pm

Cost:

 $50 (includes Great Start exclusive merchandise; 2 lunches, 1 dinner, and snacks; and a two-day parking pass)
TRANSFER DAY : August 6
In-person program for all new off-campus transfer students

Registration Deadline: 

Tuesday, August 2 at 5:00pm

Cost:

$40 (includes Great Start exclusive merchandise; 1 lunch, 1 dinner, and snacks; and a one-day parking pass)
---
Register via CaneLink
Program registration will open via CaneLink on Monday, May 2. Students can find the registration link on the bottom right-hand corner of their CaneLink home page.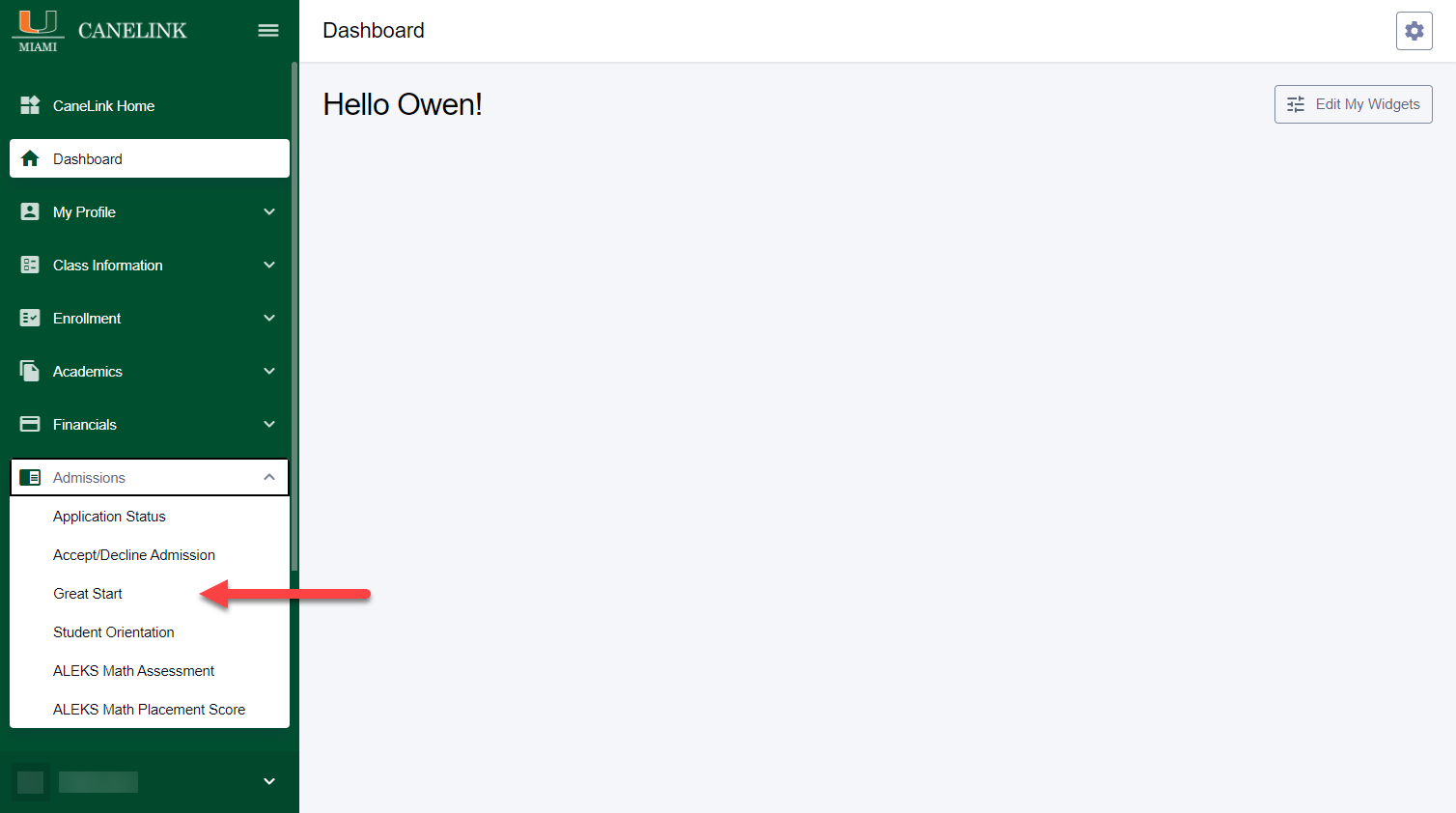 Canceling your Registration
If you need to cancel your registration for any reason, you will need to e-mail greatstart@miami.edu
All cancelations must be submitted by the registration date. You will receive an email confirmation when this has been successfully completed.
---
Scholarship Opportunities
The Department of Orientation and Commuter Student Involvement is able to provide scholarships for students that are not able to afford the cost of the Great Start Program. Scholarship funds are limited so we recommend applicants interested in attending a Great Start weekend, complete an application as soon as possible. Scholarships are reviews and awarded on an ongoing basis.
The final day to complete the scholarship application form is Monday, June 27
Those interested in a scholarship opportunity may apply using this link
---
Great Start Information Sessions
Want to learn more about what to expect during your Great Start weekend? Attend one of our virtual information sessions. Chat with our Great Start counselors and meet fellow incoming commuter students as you discover all that Great start has to offer.
Information Session Dates